Honey bees in attic spaces
We rarely come across honey bees in attic spaces, our associated pest control business regularly removes and relocates Tree bumble bee nests from attics and loft spaces, and regularly treats wasp nests in attics but as for finding honey bees in attic spaces we would consider this a rarity.
When I first wrote this post a fair few years ago, on checking through the records of the previous honey bee removals we had carried out, only a few were actually visible from within the attic and none of them were really occupying the attic space as such. All of them had been expanding out from within a cavity wall, a soffit space or an old chimney stack, and this really remains the same to this day.
The only real exception to this is the small attic space often found on the top floor of barn conversions, usually this space is so small that there is no access to it, so more akin to a dormer window roof space or porch roof.
Back at the time that I initially wrote this page I had been looking across google to see how we were doing on searches for various terms and saw that what was on offer from the various websites offered very little information of any substance. Worse still there was too much shocking advice on how to remove bees in attic, mainly identifying poisoning as being the only solution.
Clearly there were a lot of people offering advice that were getting mixed up between honey bees, wasps and bumblebees and based on the information they were providing had not had any practical experience about their subject.
It appears that since then the advice has improved, most of it is about bumblebees, particularly the Tree Bee, indicating that finding a bee colony in the attic is still not all that common, aligning with our experience.
Inspecting for bees in attic spaces
Before we even enter a roof space when looking for bees in an attic we will first look at whats going on from the ground outside. If bees or wasps are using the attic then we will probably see that from the ground and know what to expect. This also orientates us and allows us to spend time investigating the relevant area.
On first entering a roof space during the summer we will be quite careful about how we open the hatch, the last thing we want to do is disturb a wasps nest built around the hatchway, fortunately we have never had that happen but we regularly hear about it and most times people end up stung.
We also never turn the attic light on. Most times we will carry out our inspections using red light so that once we locate what we are looking for, this way we cause as little disturbance as possible. Having then found it we will retreat to a safe spot and put on a protective bee suit dependent upon what we have found and how we intend to deal with it.
Honey bees in attic
We rarely find a honey bee's nest in the attic, sometimes we will see the top of a honey bee nest protruding out of a soffit area, or possibly out of a cavity wall, but actually finding a honey bee nest in an attic is very unlikely. In fact it would be completely out of character for honey bees in the UK to have a nest in such a large open void, they much prefer smaller spaces and are therefore far more likely to occupy an old chimney flue, or possibly a dormer window roof.
Honey bees in Loft or Attic space
If finding bees in an attic space is unlikely then the possibility of finding bees in a loft space is even more remote.
The difference between a loft & an attic is that lofts are usually open spaces and attics completely closed spaces. So a loft more often than not has a stairway leading to it, or has an open side looking over an other space similar to a mezzanine.
Our honey bee relocation Specialist is waiting for you!
Swarmcatcher are the UK honey bee colony removal specialists that provide an ethical eco-friendly bee removal and relocation service across the UK.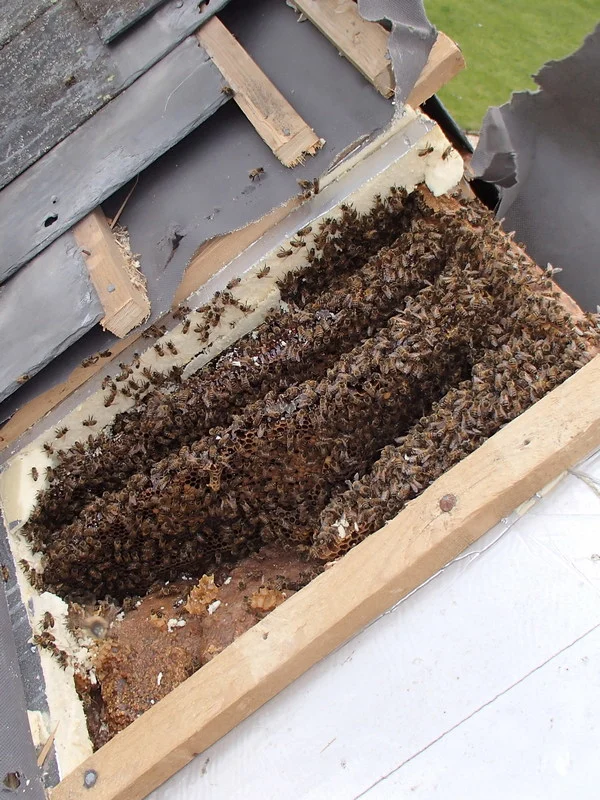 For further information on bee removal and relocation please use the contact form in the side bar or message button below, or CALL 01297 441272 to speak to someone local who knows all about it.
If you are looking for information on removing bees from a chimney check out our article 'Honey bees in chimney', or if you repeatedly have bee swarms take up home in your chimney you may want to look at our page 'Why honey bees like chimneys' & 'Everything you need to consider when removing bees in a chimney' which is a fairly extensive overview.
For information on bee removal and relocation from roofs you may want to look at our page 'Honey bees in roof', or if you have honey bees in a wall our page 'Honey bees in wall' maybe of use.
For examples on removals of honey bees from these and other more unusual places check thru our blog page Honey Bee Removal Blog and investigate our Tag cloud too.
Don't forget a general overview on honey bee removals which can be found at 'Live honey bee removal'.
Our honey bee Specialist is waiting for you