Honey Bee Swarm Eviction Service
This is a new service for 2022 with the aim to move recently arrived honey bee swarm's out of properties before they have taken up permanent residence and can't be moved out relatively easily
This is not your everyday honey bee swarm collection service – it is for the fast and urgent eviction of a honey bee swarm from a building before it becomes an even more expensive problem.
Having a honey bee swarm turn up and disappear into a hole in your property, or coming back from work or a nice day out, to a room full of dead or dying bees can be quite daunting.
This is likely to be when you are in need of our Urgent Swarm Eviction Service.
Unfortunately the longer you wait to have us remove the bees the more difficult & consequently more expensive it is likely to become.
If on the other hand you have a honey bee swarm hanging on a branch bush or some other feature then you need to be contacting the local swarm coordinator from the local Beekeeping Association or some other local beekeeper.
You need to be polite but pushy insisting that someone come to your property ASAP to remove the colony before it decides to uplift and enter your property or one of your neighbours property.
Once the swarm has entered the property its unlikely the honey bee swarm collectors will be of any use to you – but you never know, you may get lucky.
If the honey bee swarm does end up residing in your property and the local swarm collector offers to assist or give you advice please read our articles on Live honey bee removal v Swarm collecting to find out what you should be asking to ensure these individuals know what they are doing or talking about and not giving out foolish expensive advice.
Every year we hear stories about how the bees don't like chimneys, that they will leave in a while, that the space is not large enough etc etc, yet the newly arrived honey bee swarm that won't survive is still in situ and causing concern years down the road.
Having these bees in the property may at first not appear to be problematic, and many people feel exactly that way. However over time they become more aware of the problems associated with living with the bees and start to look for viable solutions for their removal. Had these bees been dealt with early on when they first arrived the costs though high are not nearly as high as once the honey bees become properly established – hence the urgency.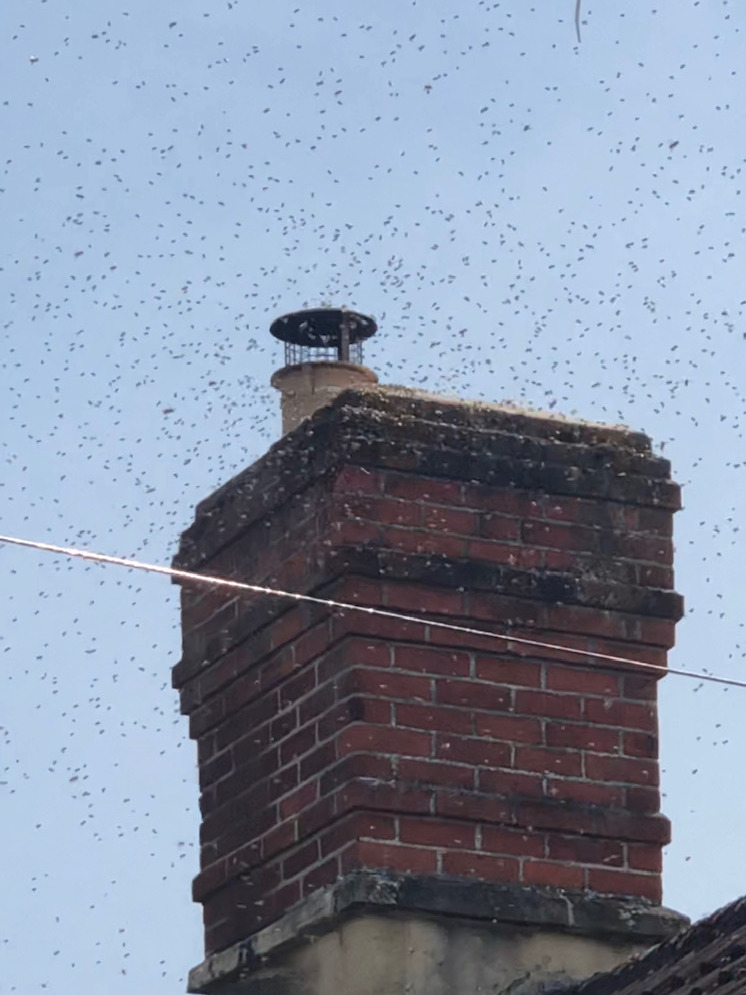 If a honey bee swarm has entered your property
Please bear in mind we are exceptionally busy at this time of year – honey bees swarming season, and in addition to our normal workload we will be dealing with many other enquiries similar to yours.
For us details are critical, so we are likely to prioritise those that supply the required information before those that have not.
Of most importance are the photos, having decent quality images and an accurate address (along with a what3words reference if possible) goes a long way towards us being able to help you quickly & efficiently.
This is so that we can deliver a fast reactive service, unfortunately this still takes a lot of time so we can not afford the time to be waffling.
For us to help you we need high definition photos (often email reduces the image size, this can be prevented at the time of sending)
Additional photos can be helpful but these two photos are a great starting point and there is little point in calling us if you have not emailed those images to us.
If you can provide your address and a what3words reference in the email along with your contact number this can help a lot as we may have someone close by.
Our honey bee relocation Specialist is waiting for you!
Swarmcatcher are the UK honey bee colony removal specialists that provide an ethical eco-friendly bee removal and relocation service across the UK.
For further information on bee removal and relocation please use the contact form in the side bar or message button below, or CALL 01297 441272 to speak to someone local who knows all about it.
If you are looking for information on removing bees from a chimney check out our article 'Honey bees in chimney', or if you repeatedly have bee swarms take up home in your chimney you may want to look at our page 'Why honey bees like chimneys' & 'Everything you need to consider when removing bees in a chimney' which is a fairly extensive overview.
For information on bee removal and relocation from roofs you may want to look at our page 'Honey bees in roof', or if you have honey bees in a wall our page 'Honey bees in wall' maybe of use.
For examples on removals of honey bees from these and other more unusual places check thru our blog page Honey Bee Removal Blog and investigate our Tag cloud too.
Don't forget a general overview on honey bee removals which can be found at 'Live honey bee removal'.
Our honey bee Specialist is waiting for you